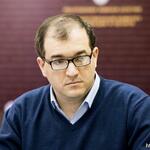 The authorities of South Ossetia in the situation with Vazha Gaprindashvili, acting toughly, but within the framework of the legislation of the Republic, outplayed the organizers of the multi-trip with the participation of an outstanding Georgian doctor, said the South Ossetian expert Yuri Vazagov in his interview with the IA «RES "
​
"The violator of the border of the Republic of Georgia was never succeeded in creating the image of the victim, nor was it possible to obtain his release without a request for clemency, despite the widespread use of repeatedly tested technologies for exerting information and diplomatic pressure on South Ossetia," Vazagov said.
​
According to him, despite the hype, the South Ossetian court previously made an informed decision, sentencing Gaprindashvili to 1 year and 9 months in prison as the guilty of deliberate violation of the state border of South Ossetia.
​
"Thus, attempts to use the" victim "factor in a white coat in domestic political games during the parliamentary elections in Georgia, which will be held in the fall of 2020, were ruled out. If Gaprindashvili continued to persist in his unwillingness to submit a petition for clemency addressed to the president of South Ossetia, then in that case, he would have been set free after the election of the new parliament of Georgia, "the expert emphasized.
​
According to him, in this situation, the whole point of participation in a primitive provocation was completely lost for him personally.
​
"Therefore, Gaprindashvili had no choice but to write a petition for clemency addressed to the president of South Ossetia, despite the fact that for him this meant recognition of the sovereignty of the Republic, contrary to his recent high-profile statements.
​
In general, such an outcome can be regarded as a failure of the goals pursued by the organizers of the provocation. Expecting their actions to contribute to the erosion of the sovereignty of South Ossetia and the regime of protecting the state borders of the Republic, and then to project the results on Georgian domestic political cuisine in the interests of the radical forces, Gaprindashvili and his curators ultimately achieved the opposite results, "said Vazagov.
​
He added that instead of the five-minute-long image of a national hero who sacrificed himself for the sake of Georgia's "territorial integrity", they received a story with an unlucky intruder who, instead of suffering in the dungeons of the "invaders," wrote a petition for clemency.
​
"Judging by the sluggish reaction from Georgian politicians in the first hours after the pardon of Gaprindashvili, it took them a while to comprehend the failure of their plans and consider how to react in the new situation.
​
The authorities of South Ossetia, on the contrary, have demonstrated that no one can violate the borders of the Republic with impunity and Georgia will have to reckon with this factor, ceasing to blindly count on the support of its patrons, "the expert concluded.