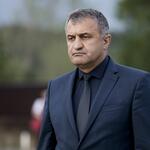 The death of the first Russian ambassador to South Ossetia, Elbrus Kargiev, is a tragedy for the entire Ossetian people, said President of South Ossetia Anatoly Bibilov in a comment to the Res agency.
"We, indeed, have lost a person who is important in all respects, his personal and professional qualities, his activities as the first Russian ambassador to South Ossetia deserved the highest rating," the head of state said. "His death is a tragedy not only for South Ossetia, where he represented the Russian Federation, but also for the entire Ossetian people."
According to the President, Elbrus Kargiev was a multifaceted personality, a high-level diplomat.
"Elbrus Kanikoevich was a true patriot of Ossetia, as his small Motherland and Russia, as a big Motherland," said Anatoly Bibilov. "He was a man whose opinion was always very important for those people with whom life connected him."
The President noted that the warm attitude of Elbrus Kargiev to the people of South Ossetia gave the residents of the Rrepublic confidence in the future.
"His public speeches, the words he addressed to our fellow citizens, inspired confidence in tomorrow," the head of state said.
Anatoly Bibilov addressed condolences to the family and friends of the first ambassador of the Russian Federation to South Ossetia.
"I offer my deepest condolences to his beautiful family, for whom Elbrus Kanikoevich was a role model. I know that his family loved and appreciated him very much. His wisdom and attitude towards loved ones always deserved admiration. We all suffered a bereavement," the President concluded.
On Saturday, sad news appeared in the media field about the death of Elbrus Kargiev, who served as the first Russian ambassador to South Ossetia, after recognizing its independence on August 26, 2008. The embassy of the Russian Federation in South Ossetia specified that the farewell to the Ambassador will be held in Moscow on Monday, the funeral on Wednesday in Vladikavkaz.
"Farewell to Elbrus Kargiev will take place on Monday in the ritual hall of the Central Design Bureau in Moscow (Marshal Timoshenko Street, Building 15) at 13:00 Moscow time. The funeral will be held on Wednesday in Vladikavkaz at 13:00 Moscow time," the embassy added.