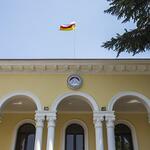 The authorities of South Ossetia are aimed at fruitful cooperation with the new government of Russia and expect a new mechanism of work after the abolition of the Ministry of the Russian Federation for North Caucasus Affairs. This was announced to TASS on Wednesday by the Chairman of the government of the Republic, Eric Pukhaev.
Russian President Vladimir Putin abolished on Tuesday the Ministry of the Russian Federation for North Caucasus Affairs, transferring its functions to the Ministry of Economic Development.
"We are aware of the changes that have occurred in the government of the Russian Federation. We hope that in the near future all technical issues will be resolved, a new mechanism for joint work will be determined, a body in the Ministry of Economy of the Russian Federation, a responsible person with whom we will directly work to prevent braking work, including the implementation of a new investment program. In any case, we are aimed at fruitful constructive work with the Russian Federation and with the assignee of the Ministry for the North Caucasus ", - ska Hall Pukhaev.
He noted the fruitfulness of joint work with the Ministry for North Caucasus Affairs, both within the framework of the Russian-South Ossetian interdepartmental commission and in the implementation of the investment program. "All issues regarding the facilities were resolved promptly, all applications were processed on time, approvals and funding were also clear. For any problematic issues, we met and found the most optimal solutions acceptable to both parties. Thanks to such coordinated work, all the facilities of 2018-2019 were completed in deadline, "said Prime Minister of South Ossetia.
In general, Russia allocated 4.5 billion rubles, 1.5 billion rubles for each year, for the implementation of the three-year Investment Program to promote socio-economic development of South Ossetia for 2020-2022. In the Investment Program for 2018-2019, more than 4.5 billion rubles were built in the Russian budget. 9.1 billion rubles were allocated for the previous three-year Investment Program for 2015-2017.