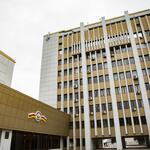 South Ossetian Foreign Minister Dmitry Medoev sent a congratulatory message to the Minister of Foreign Affairs of the Russian Federation Sergey Lavrov on the occasion of his appointment to the post of head of the Russian Foreign Ministry, the press service of the South Ossetian Foreign Ministry reports.
According to Medoev, "the appointment to such a responsible state post is another confirmation of the unconditional trust in Lavrov from the top leadership of Russia."
Minister of Foreign Affairs of South Ossetia stressed the respect with which Sergey Lavrov is treated in the Republic.
"In South Ossetia, you are treated with the deepest respect for your personal contribution to the recent history of our country, we are grateful for your sincere attitude and interest in strengthening the existing bilateral relations between our countries.
In this regard, I express confidence that, with your personal participation, the ongoing interaction between the foreign affairs agencies of our countries will continue to contribute to the expansion and deepening of bilateral partnership and integration, solving key problems of ensuring regional security and countering new challenges of the modern world in the interests of the peoples of the Republic of South Ossetia and the Russian Federation, "the congratulatory message says.