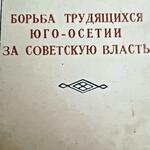 From the report of the Gori district Commissioner Japaridze to the Minister of Internal Affairs of the Menshevik Government of Georgia on the activities of the Bolsheviks in South Ossetia
... turning to the situation in Tskhinval, I report the following: here, in Tskhinval and the mountain Ossetians, the Bolsheviks are intensifying their work: Philip Makharadze, Chkheidze and the company are working, more and more agitators arrive daily. Our comrades, except Ivan Durglishvili, are not in Ossetia. Durglishvili is working only in two societies, and even then, near Tskhinval. Unfortunately, the people are driving him from rallies. Those who called themselves the Mensheviks, Dzasokhov and Ruten Gagloev, traveling around Ossetia, according to the speaker. Ter-Stepanov, are betraying us and harming our cause. In general, the Bolsheviks are intensifying an organized work against us. The inhabitants of Tskhinval held a meeting and officially decided, and informed the inhabitants of the mountain Ossetia in writing that they should no longer attack Tskhinval, since there are no more Red Guards in Tskhinval, and it is already ruined, it's better to go straight to Gori. Thus, Gori is in danger, and therefore it is necessary to urgently send comrades Farniev and GeorgeyGagloev from Tiflis to work in Ossetia. In addition, as the defense headquarters, I ask, if possible, to send to Gori at my disposal an armored train to the parking lot, as well as one airplane for reconnaissance ... *
Provincial Commissar Dzhaparidze.
TsGAOOR and SS Gr. SSR, fund 11 s, d. 29, l. l 45 Original, typewritten.
_______________________
* The missing part of the report refers to the events of the Akhalkalaki district.
1918., June
From the book "The struggle of the working people of South Ossetia for Soviet power" (1917-1921). Documents and materials. Compiled by I.N. Tskhovrebov.