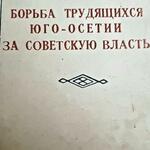 The highland revolutionary detachment is formed from the highlanders of the Alagir Gorge and other residents of North and South Ossetia. The task of the detachment is the protection of the Military Ossetian road and the defense of the revolution. First of all, horseback riders of horseback squadrons, formed on the initiative of the Military Commissariat of the Terek Republic, will be accepted. The headquarters is located in the village of Alagir. The Commander -Iliko Tuaev.
Newspaper "People's Power" (Vladikavkaz), No. 7, 1919
From the book "The struggle of the working people of South Ossetia for Soviet power" (1917-1921). Documents and materials. Compiled by I.N. Tskhovrebov.