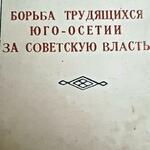 Message from the Minister of Foreign Affairs of Georgia to the representative of Georgia in Moscow Kavtaradze on various political issues
MOSCOW
To the representative of Georgia Kavtaradze
I have already sent a note to Chicherin, a copy to you, on the issues raised by your encrypted dispatch. Further will be used cipher. We still do not have the text of the contract Uratadze has not arrived yet. But I cannot allow him to sign an agreement obliging us to force the British out of Batum. What Karakhan offers to "shoot", we will never go to such a curiosity. We are conducting a serious political struggle to assert our supremacy in the Batumi region, and when we succeed, we will honestly fulfill all the clauses of the agreement on this territory. On the territory, actually occupied by us, no derogation from the direct meaning of the contract is allowed and will not be allowed. It's obscene for Georgia to simply "shoot" the dreadnoughts. I ask you to conduct the work in this spirit.
Regarding South Ossetia, the point of view of Chicherin's note is clearly contrary to the agreement. Ossetian villages are located in the Gori district, Tiflis province; this territory is included in the agreement within the borders of Georgia and there can be no power other than the power of the democratic Republic of Georgia. Bring to the attention of the People's Commissariat of Foreign Affairs, that in Vladikavkaz one thousand Ossetians are organized into a military unit for transfer to Georgia, this is a clear violation of the treaty, and we hope that Moscow will take measures to prevent it , on the basis of the sixth article of the treaty, the organization of this group, which sets the aim of overthrowing the current state law and order in Georgia. I reiterate that you must urgently find out the attitude of the Council of People's Commissars to the fact of military operations against us by the Soviet authorities on the Azerbaijani front. The Azerbaijani government clearly does not want peace, offering unacceptable conditions for a ceasefire, such as withdrawing our troops from the strategic position before concluding a peace agreement. Please inform us as often as possible. No. 4101.
Mindel Gegechkori
1920 May 22.
TsGAOOR, in the SS Gr. SSR, f, 13 s, d. 69, l. 63, Copy, typewritten
From the book "The struggle of the working people of South Ossetia for Soviet power" (1917-1921). Documents and materials. Compiled by I.N. Tskhovrebov.