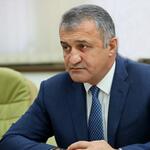 The Treaty of Alliance and Integration between the Republic of South Ossetia and the Russian Federation, signed in March 2015, is without a doubt very important based on the desire of the people of South Ossetia to join the Russian Federation, said President of South Ossetia Anatoly Bibilov.
"The Agreement was a serious step towards the realization of this aspiration. As the Chairman of the Parliament and the leader of the "United Ossetia" party five years ago I proposed a broader understanding of integration, the Parliament proposed many points that would make integration more complete," Anatoly Bibilov said in a comment to IA "Res".
According to him, these proposals, were not adopted then.
"This is unfortunate because the problems faced by the population of South Ossetia would be minimized. But in any case, the Agreement was necessary, and today great practical steps are being taken in the issues of interaction between the two countries precisely on the basis of the clauses of the Treaty of Alliance and Integration signed in 2015, "said the head of state.
It should be reminded that five years ago, an Agreement on Alliance and Integration was signed between the Republic of South Ossetia and the Russian Federation. Russian-South Ossetian relations have moved to a new, closer level of cooperation. The basic document, signed on March 18, 2015, is the second largest document after the first major treaty of friendship and cooperation, signed immediately after the August aggression in September 2008.