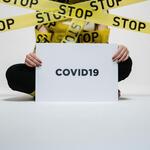 There are no cases of coronavirus in South Ossetia on the morning of April 7.
According to the Committee of the South Ossetian Committee for Supervision of Consumer Protection. 489 people are currently on self-isolation.
"Under the supervision of doctors in medical institutions there are six people. One of them is in Znaur district, and five in the infectious diseases ward of the Republican Medical Center," said the Committee Chairman Marina Kochieva to IA "Res".
According to her, on the whole, the situation in the Republic remains stable, out of 11 tests carried out on the eve, all the results are negative, not a single confirmed case of infection with COVID-19 has been revealed.
According to the government decree last Saturday, the border of South Ossetia is completely closed.
"People should observe all safety precautions as much as possible, it is very important not to violate the regime of self-isolation and, for any symptoms, consult a doctor," the chief sanitary doctor addressed the citizens.