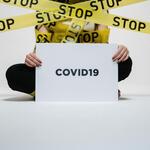 Twelve tests conducted on April 8 in the laboratory of the South-Ossetian Committee for Supervision of Consumer Protection, showed a negative result, - said the chief sanitary doctor of the Republic Marina Kochieva to IA "Res " .
According to the data on the morning of April 9, provided by the country's chief epidemiologist, there are 459 people in self-isolation at home, seven people are under medical supervision in hospitals - six in the infection department of Tskhinval and one in the Znaur district hospital.
Regarding compliance with the precautionary measures and the conditions of home quarantine of people in self-isolation, Marina Kochieva noted that over the entire period of the introduction of quarantine measures, several facts of violation of self-isolation were recorded and administrative measures were brought against them.
"But over the past few days, we have not received any information about violations by medical professionals. Everyone should approach as much as possible responsible for the regime of self-isolation. Indeed, if we do not show consciousness, we will get the same picture that has developed around our Republic. We can't relax in this situation," said the chief sanitary doctor of South Ossetia.