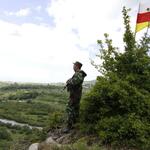 The KGB of South Ossetia once again draws the attention of the Tbilisi regime to the fact that there are no so-called occupation forces on the territory of the Republic. South Ossetia is a state recognized by a number of countries of the international community, the security service said in a statement on Friday.
The KGB recommends the Georgian authorities to study international law and use the correct terminology in relation to the independent state of the Republic of South Ossetia.
"On May 21, 2020, the website of the Georgian news Agency "Georgia online "published an article stating that allegedly representatives of the" occupation forces " near the village of Mereti in the Gori municipality of Georgia moved to the territory controlled by the Georgian authorities. The information provided in the article does not correspond to reality. In the designated area, the South Ossetian border authorities carried out the works on clearing barriers that are installed exclusively on the South Ossetian territory at a distance of up to 15 meters from the state border of the South Ossetia with Georgia from overgrown grass and shrubs, " the report says.
As noted by the Committee, the Georgian side, ignoring this information, still believes that the fence is located in the territory of Georgia.
"Given that the barriers are located on the territory of South Ossetia, the actions of the Georgian Interior Ministry officials who approached the fence, thereby violating the state border of the Republic of South Ossetia, provoking border guards, are illegal," the press service said.
Thus, the Georgian side continues to deliberately neglect the presence of the South Ossetian-Georgian border, using the daily activities of the border authorities to protect the state border as an excuse to conduct defamatory information actions and campaigns, using information resources such as Georgia Online, aimed at the formation of negative public opinion.