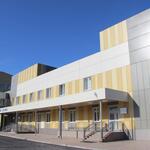 According to the data on Monday morning, May 25, 30 people with coronavirus are in the isolation ward of the Republican Medical Center of South Ossetia. As reported to IA "Res", by the press service of the Health Ministry of the Republic, the patients are in a stable condition, they are given antiviral and symptomatic therapy.
"Today, there are a total of 48 people in the infectious diseases hospital, including medical staff (30 people with coronavirus), 37 in quarantine at the hotel "Alan", and 25 at the Republican Medical Center. On Monday, 10 more citizens are expected to arrive in the Republic through the Consulate in Vladikavkaz," the press service said.
Over the past day, no new cases of coronavirus infection have been detected in the Republic. In total, about 1200 people were detected in the laboratory of the South Ossetian Consumer Supervision of the Committee.
The sanitary service calls for compliance with the rules applicable to the coronavirus pandemic. The South Ossetian Consumer Supervision Hotline continues to operate in South Ossetia: +7 (929) 810-60-96; +7 (929) 805-88-96.
The first three cases of coronavirus infection in the republic were recorded on May 6.
Last week, the government of the Republic decided to extend the closure of the border between South Ossetia and Russia until June 30. The measures taken do not apply to citizens of South Ossetia returning according to a specially developed schedule through the consular department of the Ministry of Foreign Affairs to the Republic. Checkpoints with Georgia are also completely closed.
On Monday, cafes and restaurants are opened, which are recommended not to hold mass feasts, as well as children's entertainment centers, sports facilities, libraries, hotels and resorts, public transport will start working.