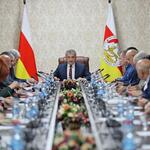 On the International Children's Day, we must remember how many innocent children's lives were taken during the genocide of the Ossetian people committed by Georgia, said President Anatoly Bibilov at the meeting of the 1920 Genocide Memorialization Commission, which was chaired by him on Monday, June 1.
According to the President, these children were killed only because they had Ossetian blood. "Life is moving forward, and we will always remember all these atrocities. And today, on the International Children's Day, I want to wish all children health, happiness, a peaceful sky and great success for the benefit of the development of our state," the head of state said.
Anatoly Bibilov has also said that the coronavirus pandemic, which swept all countries of the world, made adjustments to the events dedicated to the 100th anniversary of the Ossetian people's genocide. "This year we mark the 100th anniversary of the genocide of the people of South Ossetia, in connection with which the Year of Remembrance has been announced in the Republic. In addition, a number of events have been outlined, but due to the restrictive measures introduced to prevent the spread of coronavirus in South Ossetia, unfortunately, we are not able to fully implement the events that we planned for the 100th anniversary of the Ossetian genocide committed by Georgia - for the crisis that swept the whole world. But we must remember the victims of the genocide, and we must discuss what steps should be taken to do this," the head of state said.
The meeting was attended by Chairman of the Government Eric Pukhaev, Chairman of the Parliament Alan Tadtaev, Head of the Presidential Executive Office Igor Kozaev, Heads of the Ministries and Departments, the MPs.
The meeting participants discussed the format of the activities that can be carried out in the country in the context of the spread of coronavirus infection COVID-19, as well as the date and plan of the key events.
Then the meeting continued without the participation of media representatives.