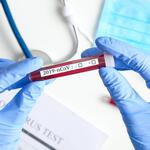 Over the past day in South Ossetia, 48 tests were conducted in the laboratory of the Republican Medical Center, some of them will be rechecked, Anna Gagloeva, Deputy head of the South-Ossetian Consumer Supervision Committee, told IA "Res" on Wednesday.
"In just three months, there were tested 1,502 persons," Gagloeva said.
Thus, on the morning of Thursday, there are 14 coronavirus patients in the Tskhinval infectious diseases hospital, among them 7 cadets, 5 citizens who arrived from Vladikavkaz, one serviceman and one person from the medical staff.
"A total of 150 people are being monitored, including 126 in medical institutions: 36 in the Republican Medical Center, 38 in the infection ward, 38 in the Dzau settlement, 14 in Znaur, and 24 in the hotel "Alan". Groups of cadets and citizens arriving through the Ministry of Foreign Affairs continue to be quarantined, " she said.
"There have been 45 cases of coronavirus in the entire period, of which 31 have recovered and been discharged to date," the doctor said.
The first three cases of coronavirus infection in the Republic were recorded on May 5.
The government of the Republic made decision to extend the closure of the border of South Ossetia with Russia until June 30. The measures taken do not apply to citizens of South Ossetia returning to the Republic according to a specially developed schedule through the consular department of the Ministry of Foreign Affairs.
At the same time, on May 25, public transport began to function, with some restrictions were opened cafes, restaurants, children's entertainment centers, sports facilities, libraries, etc.