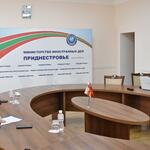 South Ossetian Foreign Minister Dmitry Medoev and Foreign Minister of the Pridnestrovian Moldavian Republic Vitaly Ignatiev held working consultations via video-conference, attended by the heads of the diplomatic missions of South Ossetia and Transnistria, Vitaly Yankovsky and Alan Pliev, the Republic's telegram channel reported.
"During the conversation, the parties discussed the current state and prospects for the development of bilateral cooperation, exchanged views on the current epidemiological situation in both countries related to the spread of coronavirus infection. In this context, Dmitry Medoev and Vitaly Ignatiev noted the need to intensify contacts online," the Foreign Ministry said in the statement.
As part of the communication, Dmitry Medoev expressed his gratitude for the organization of the memorial event dedicated to the 100th anniversary of the Ossetian genocide by the Ministry of Foreign Affairs of Transnistria, and also congratulated the Transnistrian colleagues on the anniversary of the establishment of the Foreign Ministry.
At the end of the meeting, the parties agreed to continue regular working communication on the entire range of topical areas.