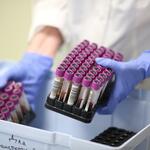 In South Ossetia, for the second week (since June 26), no new cases of coronavirus infection were detected, the tests were all negative, Anna Gagloeva, Deputy Head the South-Ossetian Consumer Supervision Committee, told IA "Res" on Wednesday.
Since May, 85 infected with coronavirus have been detected in the Republic, all of them recovered and were discharged from medical facilities.
"To date, 254 people are quarantined in South Ossetia, most of them are citizens of the Republic who returned from Russia through the consular department in North Ossetia, as well as 8 Russian construction specialists who arrived in the Republic and truck drivers delivering the goods." - she said.
Under quarantine zones in the Republic, are assigned the wards in the Republican Multidisciplinary Medical Center in Tskhinval in the district hospitals of the settlements of Dzau, Znaur and Leningor, as well as the building of the former maternity hospital and the hotel "Alan". All arriving citizens are under mandatory quarantine, so patients with coronavirus were detected in the medical institutions.
Since May of this year, over 2,670 tests for coronavirus have been conducted in the Republic.
Russian Consumer Supervision Committee, provided South Ossetia with additional test systems to detect a new type of coronavirus, in addition, tests were purchased with means from the Presidential Fund.
The Cabinet of Ministers of South Ossetia extended the ban on crossing the border with Russia until July 31. An exception is made only for trucks, for which a timetable for crossing the border is established, as well as for citizens of South Ossetia outside the Republic who can return to their homeland after applying to the South Ossetian Consulate in North Ossetia. Earlier, South Ossetian authorities completely closed the border with Georgia. At the same time, restrictions on holding cultural events were lifted in the Republic, public places were opened, and kindergartens resumed their work on July 2.