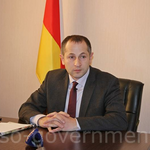 The opening of trade missions will allow the Republic to move to a new, higher level of interconnections and trade relations with friendly partners and other peace-loving countries of the world, to reveal the largely unrealized potential of the Republic in the foreign economic direction, said Deputy Prime Minister, Minister of Economic Development Gennady Bekoev, commenting on the decree of President Anatoly Bibilov "On Amending the Regulation on the Ministry of Foreign Affairs of the Republic of South Ossetia, approved by decree of the President of the Republic of South Ossetia dated January 31, 2018 No. 9". The decree was signed on July 3 of this year with the aim of organizing work to create a system of trade missions outside of South Ossetia, which will be under the jurisdiction of the Ministry of Economic Development. This was reported by the press service of the government.
"In order to promote the development of trade and economic relations between partner countries, the Ministry of Economic Development is conducting systematic work to create trade missions that will promote goods produced in the Republic of South Ossetia," said Gennady Bekoev.
"In the coming years, we have to do this," said Gennady Bekoev.
The Presidential Decree was issued as part of the implementation of the Agreement between the Government of South Ossetia and the Government of Russia on the mutual establishment of trade missions of December 1, 2009.