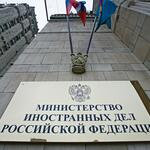 Moscow calls on Tbilisi to refrain from provocative actions on the border with Russia, Abkhazia and South Ossetia and use all existing platforms for dialogue. This is stated in a comment issued on Wednesday by the Russian Foreign Ministry.
"We urge the Georgian authorities to put an end to provocative actions and statements, use all available dialogue formats with Russia, Abkhazia and South Ossetia, including the regional incident prevention and response mechanisms, the Geneva discussions on security and stability in Transcaucasia and the informal negotiation channel Grigory Karasin - Zurab Abashidze, to solve the existing problems in a mutually beneficial constructive spirit. We expect the Georgian authorities to more energetic explanatory work with their own population in order to prevent new cases of illegal border crossing, "the commentary says.
Moscow expressed concern about the increasing incidence of crossing the borders of Russia, Abkhazia, South Ossetia from Georgia. In addition, as indicated in the commentary, frequent border crossings once again indicate the need for direct negotiations between Tbilisi, Sukhum and Tskhinval.
"We would like to separately note the provocative comments of the US State Department and the US Embassy in Tbilisi, which, in the manner that has already become traditional for the Americans, without understanding the essence of what is happening, are screening their Georgian wards and blaming Moscow and Tskhinval. All this at least undermines Washington's position as an impartial participant in the Geneva discussions ", - summarized in the Russian Foreign Ministry.
The diplomatic service reminded that on June 6, near the Abkhazian village of Alakumkhara, Russian border guards detained three Georgian citizens who illegally crossed the border. Then, on June 13, an armed Georgian citizen was detained on the territory of the Tsuntit district of the Republic of Dagestan, who penetrated 600 meters into the territory of the Russian Federation. The Russian side handed over the detainers to the Georgian border guards. On July 9, a similar situation again repeated in Dagestan.
On July 11, an incident occurred on the Georgian-South Ossetian border when a 33-year-old resident of the village of Kvemo-Chala of the Caspian municipality of Georgia Zaza Kakheladze, violating the state border, entered the territory of the Republic in the vicinity of the village of Akhmadz of the Leningor district. When the South Ossetian border authorities appeared, the intruder fired several shots at him with a pump-action shotgun, was wounded by return fire, and was detained.