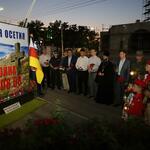 The memory of civilians, militias and peacekeepers, killed during the Georgian military aggression against South Ossetia in 2008 was honored with a minute of silence on Saturday night, the Novosti Pridnestrovya news agency reported.
According to the agency, Minister of Foreign Affairs of the PMR Vitaly Ignatiev, representatives of departments and public organizations took part in the mourning event in front of the South Ossetian representation in the PMR.
"Today we paid tribute to the memory of those people who perished innocently 12 years ago. We cannot freeze the process of resolving conflicts. The conflict resolution process cannot be frozen. It is impossible to defrost situations where there is a danger of repeating the conflict and loss of life, " Ignatiev said.
On the night of August 8, 2008, Georgia fired at South Ossetia from Grad multiple rocket launchers, Georgian troops attacked the Republic and destroyed part of its capital, Tskhinval. Russia, defending the inhabitants of South Ossetia, most of whom had Russian citizenship, sent troops into the Republic and, after five days of hostilities, ousted the Georgian military from the region.
Russia on August 26, 2008, after Georgia's armed aggression against Tskhinval, recognized the sovereignty of South Ossetia and Abkhazia. Russian leaders have repeatedly stated that the recognition of the independence of the two former Georgian autonomies reflects the existing realities and is not subject to revision. However, Tbilisi refuses to recognize the independence of the republics.