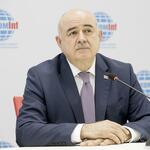 Recently, a certain Levan Mikeladze Foundation held an annual online conference "Georgia and its Neighborhood", where the US First Deputy Secretary of State Stephen Bigan made a statement that Georgia and the United States of America should redouble their efforts so that the Russian Federation would withdraw the decision on recognition of the independence of Abkhazia and South Ossetia.
South Ossetian Foreign Minister Dmitry Medoev, at the request of the "Res" news agency, commented on the statement of the American official, calling it "a broken record."
"I want to draw your attention to how difficult our job is - for the twelfth year in a row, as the month of August comes, we have to read all the collective junk nonsense, which, by the way, has a more precise definition in the same Georgian or English language ... This year, these gentlemen did not express anything new, only old stuff, as before, mixed with lies and inventions - they did not even bother to change the broken record, "said the Foreign Minister.
At the same time, Medoev noted, "oddly enough, there is one positive moment":
"In the course of listening to this verbiage, I was suddenly inspired with a brilliant plot from the world literary classics, much more pleasant than the texts of these gentlemen. I certainly want to cite an amazing association that has arisen here. So, listen:" Come, dear grandfather, I pray you by God, take me away ... Have pity on me for the unfortunate orphan, otherwise everyone is beating me and I want to eat passionately, but boredom is such that it cannot be said, I keep crying. And the other day the master hit me on the head with a boottree, so that I fell and barely recovered My lost life is worse than any dog ​​... And I also bow to Alena, the crooked Yegorka and the coachman, but do not give my harmony to anyone. I remain your grandson Ivan Zhukov, dear grandfather, come. Vanka rolled up the sheet of paper he had written and put it in the envelope he had bought the day before for a kopeck... After a moment's thought, he dipped his pen and wrote the address: to the village of my grandfather. Anton Pavlovich Chekhov. Vanka. 1886. Brilliant! Isn't it?"