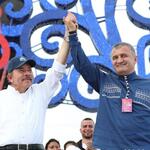 President of South Ossetia Anatoly Bibilov congratulated President of the Republic of Nicaragua Daniel Ortega on the Independence Day of the Republic of Nicaragua, the press service of the head of state reports.
President of South Ossetia stressed the significance of the date for the people of Nicaragua.
"The date of September 15, 1821 became a landmark event in the history of the people of the Republic of Nicaragua. This day is a symbol of the unity of the people of Nicaragua, which has managed to assert its inalienable right to national dignity and a better future.
Today the country is confidently moving forward, developing its economy, improving the quality of life of its citizens. Relying on the results of active work, it follows the path of creation and development, strengthening unity and harmony in the land of Nicaragua, "the message says.
Anatoly Bibilov expressed his conviction that "the relations of friendship and mutual respect that have developed between our two countries will be further strengthening and developing for the benefit of the peoples of South Ossetia and Nicaragua" and wished the people of the Republic of Nicaragua peace, happiness and prosperity, and Daniel Ortega - good health, inexhaustible vital energy and new successes in his state activities.