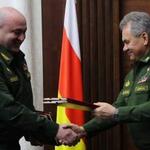 In Moscow, on September 15, 2009, the defense Ministers of Russia and South Ossetia signed an Agreement on military cooperation, which resulted from the Treaty of friendship, cooperation and mutual assistance between the Russian Federation and the Republic of South Ossetia of September 17, 2008.
In accordance with the Agreement, the parties cooperate in the military field in various areas, the main of which are: strengthening military security and confidence-building measures; ensuring the safety and control of airspace; training of military personnel in military educational institutions of the Parties; logistic and technical support of troops.
As reported to IA "Res" by Colonel Vadim Siukaev, Secretary of State - Deputy Head of the South Ossetian Defense Ministry, the Agreement also provides for interaction on many other issues of mutual interest. He has noted that specific issues of cooperation are determined by separate agreements signed in the period from 2009 to the present, and include the issues of ensuring peace and security, military-technical cooperation, social protection of servicemen of the Republic of South Ossetia (medical, pension provision), contract military service of the citizens of the Republic South Ossetia in the Armed Forces of the Russian Federation, other issues.
"I would especially like to note the Agreement between Russia and South Ossetia on a joint Russian military base on the territory of the Republic of South Ossetia dated April 7, 2010, according to which, in order to provide military assistance to protect the sovereignty and security of South Ossetia from external and terrorist threats and to ensure joint efforts to maintain security and stability in the Republic of South Ossetia. Thus, Russian military contingents are located in South Ossetia on the basis of an interstate legal act, " he said.
Siukaev has stressed that, of course, the above Agreement of September 15, 2009 became the basis for all interstate acts in the military sphere, signed by the authorized bodies of the parties.
"To implement the commitments made, the defense ministers of the states Sergei Shoigu and Ibragim Gasseev annually approve a plan of bilateral cooperation, which is successfully implemented through official visits and working meetings at the leadership level, joint activities on operational and combat training of the armed forces, consultations, conferences, exchange of experience, working meetings of experts and specialists, "said Siukaev.
According to him, it should be noted the attention paid to the development of the national army by the leadership of the Defense Ministry of the Russian Federation and the General Staff of the Armed Forces of the Russian Federation. Practically on a daily basis, we interact with the command of the Southern Military District, the 58th Army and the 4th Guards military base.
"That is, cooperation is carried out at all levels, while any of our questions finds understanding and readiness of our Russian colleagues to provide all kinds of assistance," said the State Secretary.
He has expressed confidence that cooperation between our states in the military sphere will continue to develop actively and effectively.