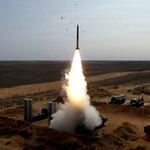 South Ossetian Defense Minister Lieutenant General Ibragim Gasseev, on the invitation of Russian Defense Minister, General of the Army Sergei Shoigu, will visit the final stage of the Kavkaz-2020 strategic command and staff exercise, which will be held at the Kapustin Yar training ground in the Astrakhan region on September 25.
According to the press service of the Defense Ministry, a number of heads of defense departments of foreign states, as well as representatives of the military diplomatic corps, have been invited to the large-scale event.
The delegation of the Ministry of Defense also includes Chief of the General Staff of the Armed Forces of the RSO Guard Major General Viktor Fedorov, Deputy Defense Minister of the Guard Colonel Akhsar Gassiev.
Within the framework of the visit, it is planned to inspect military equipment, observe the main draw of the active phase of the strategic command-staff exercise "Kavkaz-2020", a briefing by Chief of the General Staff of the Russian Armed Forces General of the Army Valery Gerasimov on the results of the exercises and other events.
The Exercises Kavkaz-2020, in which servicemen from 10 countries, including South Ossetia, take part, are being held from September 21 to 26 on the territory of the Southern Military District and are the final stage of the complex of measures for operational training of the Russian Armed Forces. The main maneuvers are carried out at the internal training grounds of the Southern Military District - Prudboy, Ashuluk, Kapustin Yar, as well as at the Arzgirsky and Kopansky air training grounds. In addition, there are episodes of actions of the Black Sea Fleet and the Caspian Flotilla groupings, including with the participation of the ships of the naval forces of the Islamic Republic of Iran in the waters of the Black and Caspian Seas.
In total, 80 thousand people are involved in the maneuvers, including formations and units of combat, logistical and technical support, as well as formations of air defense, the Navy and special forces, as well as up to 1 thousand military of six foreign countries: Armenia, Belarus, Iran, China, Myanmar and Pakistan. Up to 250 tanks, up to 450 infantry fighting vehicles and armored personnel carriers, up to 200 artillery systems and multiple launch rocket systems are also involved.