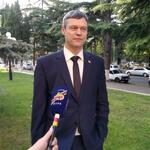 Issues related to security on the border of South Ossetia with Georgia were discussed on Thursday at the meeting in the format of the Incident Prevention and Response Mechanism (IPRM).
According to the head of the South Ossetian delegation to the IPRM Yegor Kochiev, the agenda included incidents that occurred in the border territories between South Ossetia and Georgia since the previous 96 meeting, held on July 30, issues of violation of the airspace of the South Ossetian Republic, the removal of the illegal Georgian post in the village of Uista.
"The issues of violation of the state border with South Ossetia by Georgia were raised, which is especially important in connection with the coronavirus epidemic. As known, there is an increase in COVID-19 infected. Participants from the Georgian side explained that this is due to the opening of the tourist season in Adjara, where there is mainly an increase in the number of patients. Nevertheless, if we ignore the situation in Adjara, the incidence rate is still growing in Georgia,"said Yegor Kochiev.
He has added that there were less than 10 violators of the South Ossetian border by Georgia over the past two months.
"In connection with the pandemic, violators are most often expelled on the spot to the territory of Georgia," the head of the South Ossetian delegation explained.
According to him, the South Ossetian participants of the meeting once again focused on the issue of removing the Georgian post in the village of Uista.
"A little over a year ago, a Georgian police post was erected in the area of ​​the Uista settlement. We have once again voiced the demands of the South Ossetian side to remove the police post from the South Ossetian territory, "Kochiev stressed.
The next IPRM meeting is scheduled for the second half of November.