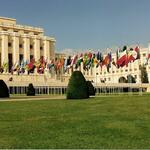 The next round of the Geneva discussions on security and stability in Transcaucasia , scheduled for October 6-7, was postponed again due to the current restrictions associated with the coronavirus pandemic, said Presidential Plenipotentiary Envoy of South Ossetia, head of the South Ossetian delegation at the meeting, Murat Dzhioev.
"The other day we received a letter from the co-chairs of the Geneva discussions, in which we were informed that not all participants would be able to come to Geneva," the Envoy informed IA "Res".
Meanwhile, the work is underway in the format of the Incident Prevention and Response Mechanism (IPRM).
"The next meeting is scheduled for November, and already in December, if the situation with the pandemic allows, the participants in international discussions in the same format will gather for the next 51st round in Geneva," said Dzhioev.
The previous round of international discussions on security in Transcaucasia took place in December last year, and since then the participants have held online conferences.
Delegations of the Republic of South Ossetia, the Republic of Abkhazia, Georgia, the Russian Federation, the United States, as well as the EU, UN and OSCE representatives take part in the discussions.
At the last meeting in Geneva, the co-chairs agreed on the high importance of the Geneva format, which has been an effective mechanism for maintaining regional security for 11 years.
Discussions continued on ways to work out the main issue - a joint statement by all the participants in the discussions on their adherence to the principle of non-use of force by Georgia against South Ossetia and Abkhazia.