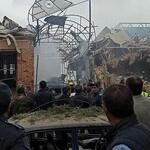 Gunnar Lindemann, Chairman of the German-Ossetian Friendship Club, member of the Berlin Chamber of Deputies, spoke out against military operations in the South Caucasus, the press service of the South Ossetian Foreign Ministry reported.
"As a European and as a member of the Inter-Parliamentary Commission on Human Rights in the German Bundestag, I look at the events in the South Caucasus with great concern. Azerbaijan's attacks on Armenia, supported by Turkey in cooperation with ISIS militants, could lead to a full-scale fire of war.
This region is a point of collision of various interests. I am convinced that the current aggression against the Christian population of the unrecognized state "Republic of Artsakh" (formerly Nagorno-Karabakh) came from those who want to strengthen the influence of radical Islam in the region and dream of medieval great-power empires. The fact that a NATO member state is on the side of the aggressors makes the situation difficult for us, Western Europeans, and I consider it a mistake that could lead to fatal consequences if Western Europe pretends that what is happening does not concern us.
Russia is also interested in maintaining stability in this region and will not be able to endlessly and indifferently watch the ongoing aggression from the south.
In this regard, I call on the federal government and NATO to demand that the parties involved in this conflict immediately end their aggression. All parties involved should sit down at the negotiating table as soon as possible and reach a mutual agreement and peaceful coexistence.
Great powers fantasy and religious fanaticism have no place in our time. We live together on the same planet and must respect each other," said Gunnar Lindemann.