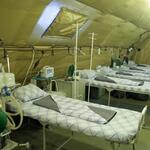 Russian Defense Minister General of the Army Sergei Shoigu instructed to promptly deploy a multifunctional mobile hospital in South Ossetia to assist in the fight against coronavirus.
"At the request of South Ossetia, the Supreme Commander-in-Chief decided to deploy a mobile hospital in Tskhinval. I ask you to start this work today," Shoigu said on Thursday at the meeting on measures to prevent the spread of coronavirus.
The head of the Russian military department set the task to deploy a hospital in South Ossetia as soon as possible.
Earlier, on the instructions of President Anatoly Bibilov, the South Ossetian military department sent a letter to the Ministry of Defense of the Russian Federation with a request to send a military field hospital with 150 beds with specialized specialists and relevant medical equipment to the Republic.
South-Ossetian Consumer Supervision Committee has recorded an increase in the number of people infected with coronavirus, 39 cases were detected in the Republic over the past day. The total number of infected people reached 344, 254 cases were detected after the opening of the border with the Russian Federation (from September 15), and 90 were identified among those who were on mandatory two-week quarantine in medical institutions, all of them recovered. On October 17, the first patient, an 88-year-old woman, died due to coronavirus.