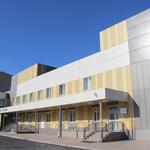 196 people with radiologically confirmed viral pneumonia are being treated in the "red zone" of the RMMC in the capital of South Ossetia, Deputy Minister of Health of the Republic Alla Chochieva told IA "Res".
"There are 196 people with pneumonia in the RMMC, 10 people are in critical condition in intensive care, one patient was hospitalized in RNO-Alania. As far as possible, patients are provided with the necessary medical care," Chochieva said.
According to the Deputy Health Minister, 16 people, who recovered from COVID-19 have been discharged from the medical institutions.
In order to provide assistance to residents of the Republic during the coronavirus pandemic, a single center is functioning in South Ossetia: +7 (929) 810-60-96; +7 (929) 805-88-96. Specialists answer questions of interest to citizens and provide detailed information on the spread of infection and preventive measures.