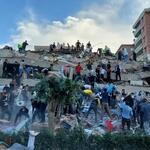 There are no representatives of the Ossetian diaspora among the victims of the earthquake in Turkey, Ramzi Kanukov, the authorized representative of South Ossetia in Turkey, told IA "Res".
"The earthquake was strong; the city of Izmir was badly damaged. There were people among the rubble, a large number of people were injured, and there are also victims. As far as we know, there are no Ossetians among the victims of the earthquake," Kanukov said.
It should be reminded that the earthquake of magnitude of 6.7 occurred in the west of Turkey, in the province of Izmir on October 30. During the disaster, 83 people died, more than 960 people were injured.
The earthquake of 6.7 magnitude was recorded in the sea, 19 km north-west of the island of Samos, it was felt in Athens and Istanbul. Aftershocks have led to the collapse of at least 20 houses in Izmir, destruction is also in the Greek city of Neon Karlovassi.
According to various estimates, the Ossetian population in Turkey ranges from 20,000 to 100,000. Most Ossetians live in Istanbul, Ankara and Izmir.
In 1989, the Alan cultural and charitable Foundation was established. Currently it is headed by Remzi Kanukati. The Foundation's branches in Ankara and Istanbul have opened courses for children to learn the Ossetian language. According to some sources, more than 100 representatives of Ossetian surnames live in Turkey.