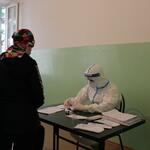 As of the morning of November 8, In the "red zone" of the Republican Multidisciplinary Medical Center (RMMC) of South Ossetia, 183 patients are being treated, another 71 are being treated in the Russian military hospital in Tskhinval, the chief infectious disease specialist of the Republic Eleonora Dzhioeva informed IA "Res "on Sunday
"Today, 30 patients are being treated in the infectious diseases building of the RMMC, and 153 in the building of the children's hospital. Eleven of them are in the intensive care unit. All 183 patients were diagnosed with pneumonia. Over the past day, 19 patients were discharged and 14 people were hospitalized again, "the doctor said.
Dzhioeva has noted that there is not yet shortage of oxygen and medicines in hospitals, "we are still coping." The doctor has emphasized that a fairly large percentage of doctors themselves ate suffering from coronavirus.
As for the work of the admission and triage department of the RMMC, 130 patients were admitted there in a day.
"Fifty patients were tested at the reception and triage center; 13 people were referred for computed tomography of the chest. Six were hospitalized at the RMMC, two people were sent to the military hospital," said the chief infectious disease specialist.
Earlier it was reported that 69 patients were undergoing treatment at the Russian military hospital in Tskhinval, which arrived in the Republic to help fighting against COVID-19.
At the beginning of the week, the authorities of the Republic introduced a number of restrictions until November 15 concerning the work of educational, entertainment and sports institutions, and events with a large crowd of people were also banned.