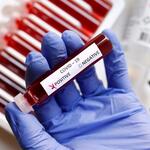 In the PCR laboratory of the South Ossetian Consumer Supervision Committee 165 people have been tested for COVID-19; 36 tests showed a positive result, Anna Gagloeva, Deputy Head of the South Ossetian Consumer Supervision Committee, told IA "Res ".
"20 people were removed from the medical register during the day, 1291 people who are being treated in-patient and out-patient are still under medical supervision. A total of 321 people have recovered since mid-September, " Gagloeva said.
According to her, in the Republic, the number of citizens with a confirmed test for coronavirus reached 1612; in total, more than 9 thousand studies were carried out in the laboratory during the pandemic.
South Ossetian Consumer Supervision Committee previously introduced a mandatory mask regime in public places in order to counter the spread of coronavirus. All educational institutions of the Republic are closed for quarantine, except for certain primary classes and groups in kindergartens. The functioning of secondary, secondary vocational and higher educational institutions, children's institutions of additional education, children's entertainment centers, attractions, computer clubs, physical culture and sports facilities has been suspended.
Cultural, sports and entertainment events, weddings and other celebrations have also been suspended. On Friday, the operational staff of the Republic extended these restrictive measures until December 15.