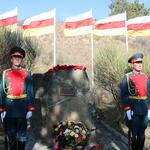 The Day of Courage and National Unity - November 23 - in South Ossetia is a day off according to the calendar of holidays and memorable dates.
November 23 - one of the most important holidays in the Republic of South Ossetia - St. George's Day ("Dzhuarguba"). However, this day went down in the history of the Ossetian people as the day of the beginning of the heroic chronicle of the Republic of South Ossetia. On this day in 1989, began Georgia's aggression against South Ossetia.
According to the already established tradition, in memory of the events of November 23, 1989, on Monday, flowers and wreaths will be laid at the entrance to the capital on the Pris Upland, the very place where 31 years ago the residents of Tskhinval blocked the way for the Georgian nationalists, from where was carried out the campaign of extremist-minded people, participants of the Georgian nationalist movement, organized by Zviad Gamsakhurdia.
At that time, several dozen young Ossetian guys stood up to defend their hometown and the civilian population, who, being unarmed, without hesitation for a second, defended their homeland and blocked the road to the city. With the strength of their spirit, they forced the enemy to retreat. Georgian nationalists did not have enough fortitude to break through this human chain.
In honor of their feat, November 23 became known as the Day of Courage and National Unity and is included in the calendar of holidays and days off.
This year's event will be held with a minimum number of participants due to the difficult epidemiological situation in the Republic.