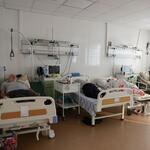 In the Republican Multidisciplinary Medical Center (RMMC) of South Ossetia, as of the morning of November 26, 108 patients with coronavirus are being treated, 41 people are in the Russian military hospital in Tskhinval. This was reported to IA "Res" by the chief infectious disease specialist of the Republic, Eleonora Dzhioeva.
"Today 36 patients are being treated in the "red zone" of the infectious diseases building of the RMMC, and 72 in the building of the children's hospital. There are 9 people in the intensive care unit, "the doctor said.
According to Dzhioeva, 6 patients were admitted to the RMMC yesterday, 22 people were discharged from the hospital for outpatient follow-up care.
Dzhioeva has noted, that over the past day, one case with a lethal outcome was recorded. "A patient born in 1966 was admitted to the isolation ward of the Republican Multidisciplinary Medical Center on October 25 in a serious condition with suspicion of a new coronavirus infection. Bilateral poly- segmental pneumonia of viral etiology. Respiratory failure of 2-3 degrees. He received appropriate therapy, including antiviral, anticoagulant, oxygen therapy, however, the signs of respiratory failure were increasing. The patient was transported for further treatment outside South Ossetia on October 29. He received treatment. Despite the therapy, his condition worsened and on November 25, biological death was stated. "
As noted by Dzhioeva, the admission and triage department of the RMMC on Wednesday received and examined 127 patients, of which 8 people were hospitalized.
"The Russian specialist examined and gave recommendations to 40 applicants. 12 patients were referred for computed tomography of the chest organs. 50 patients were tested in the admission and triage department," said the chief infectious disease specialist.
,Dzhioeva has added , that the mobile teams examined 6 patients at home.
The doctor has noted that there are fewer patients requiring hospitalization.
"And this is undoubtedly the result of timely seeking medical help, compliance with restrictive anti-epidemic measures for the spread of the new coronavirus infection, a more responsible attitude to our own health and the health of our nearest and dearest. This is good news. But we should not relax in any way. in winter, when there is a wave of seasonal respiratory diseases, there is a high probability of combining them with a new coronavirus infection. Observe preventive measures and take care of yourself. Health to all of us, "said Dzhioeva.