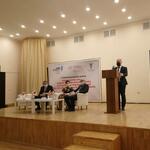 The head of the Chamber of Commerce and Industry of South Ossetia Alan Alborov took part in the VI International Forum "Southern Gates of Russia. Development of cooperation between entrepreneurs of the South of Russia and the states of the South Caucasus and the Middle East - 2020 ".
As reported to IA "Res" by Alan Alborov, the Forum was held on November 25 in Vladikavkaz, the event was organized by Chamber of Commerce and Industry of the Republic of North Ossetia - Alania.
"This year, representatives of Abkhazia and Karachay-Cherkessia also became participants in the Forum, due to the situation with the coronavirus pandemic in the world, participants from Iran, Turkey and Belarus have connected to work online," Alborov said.
Alborov made a report, where he spoke about the tasks of developing foreign economic relations of enterprises of the Republic of South Ossetia, as well as creating conditions for supporting the export component of small and medium-sized enterprises.
Vice-President of the RF CCI Vladimir Padalko took part in the Forum in the format of a video conference. In his speech, the Vice President highly appreciated the efforts of the executive power of the Republic of North Ossetia-Alania, as well as the business community led by Chamber of Commerce and Industry of the Republic on socio-economic development of the region, increasing its export potential, and creating an investment climate.
Businessmen from different countries discussed prospects for strengthening foreign economic relations between the countries, developing trade and increasing trade turnover. The Forum featured presentations of the potential of the Iranian province of Mazandaran, the Turkish city of Trabzon, the city of Grodno in the Belarusian Republic, as well as Abkhazia and South Ossetia.