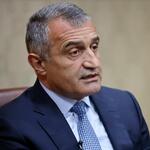 International Geneva discussions on Transcaucasia are needed for South Ossetia to bring objective information about its rights to the world community, President of the Republic Anatoly Bibilov said at the press conference in Tskhinval.
"Our Republic is the independent state that lives its own life, but today there are no courageous politicians in Georgia who would recognize it. Nevertheless, the Geneva discussions are needed for South Ossetia to declare its rights on the international platform, the truth to the international community, objective information about what happened between our Republic and Georgia. In addition, at these meetings we have the opportunity to raise questions of clarifying the fate of our missing citizens, "the President said.
The head of state also noted the importance of the format of the Incident Prevention and Response Mechanism, within which security issues on the border with Georgia are discussed.
The only 51st round of the International Geneva Discussions on Transcaucasia in the outgoing year was held on December 10-11 in Geneva. The next round is tentatively scheduled for March 2021. Its format will depend on the general epidemic situation.
The Geneva discussions on security and stability in Transcaucasia are held since October 2008 on the basis of agreements reached after the events of August 2008 in South Ossetia.
At the moment, this is the only platform for a dialogue between representatives of South Ossetia, Abkhazia and Georgia. Representatives of Russia, the United States, as well as the UN, OSCE and the EU are participating in the discussions as mediators.