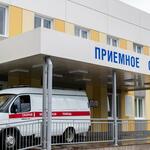 In the "red zones" of the Republican Multidisciplinary Medical Center (RMMC) of South Ossetia, as of the morning of January 2, 66 patients with COVID-19 are being treated. This was reported to IA "Res" by the chief infectious disease specialist of the Republic, Eleonora Dzhioeva.
"Currently, there are 33 patients in the infectious diseases building of the RMMC, and another 33 in the building of the children's hospital. Three are in the intensive care unit, "the doctor said.
Over the past day, three patients were admitted to the "red zone" of the hospital, six people were discharged for outpatient follow-up care.
According to Dzhioeva, one fatal case was recorded over the past 24 hours.
"A patient of 83 years old was admitted to the" red zone "of the infectious diseases hospital on December 25 on the fourth or fifth day of illness with complaints of weakness, feeling short of breath, low-grade body temperature with a diagnosis of "Coronavirus infection. Bilateral polysegmental viral pneumonia. DN 2. CT 1. Ischemic heart disease. Hypertonic disease. Diabetes mellitus type 2 ", - said the doctor.
Dzhioeva has noted that the patient received complex treatment in accordance with the Protocol for the treatment of a new coronavirus infection.
"However, on December 31, she was transferred to the intensive care unit with signs of pulmonary embolism. The signs of coagulopathy increased and on January 1, it was certified death".