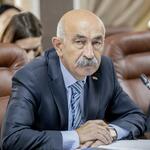 The European Court of Human Rights has finally, after long trials, delivered a verdict on Georgia's lawsuit against Russia, which it filed after the aggression against South Ossetia in 2008, when Georgia was forced to peace as an aggressor, said Presidential Envoy for post-conflict settlement Murat Dzhioev ...
"There were long proceedings and the main conclusion reached by the European courts is that the 2008 war against South Ossetia was unleashed by Georgia. the court found that Russia did not invade Georgia, but that Georgia invaded South Ossetia. It turns out that the European Court of Human Rights came to the same conclusion that the independent EU commission led by Heidi Tagliavini came to back in 2010, which recognized that it was Georgia that started the war against South Ossetia. And yet, European courts have not found a single case when Russian soldiers used violence against the Georgian population," the Plenipotentiary said.
The diplomat believes that this is a very important conclusion and the demonstrated responsibility of Georgia for the war against South Ossetia is important.
"Proceeding from this, I think, European and world politicians should draw appropriate conclusions, although we know very well that all their conclusions are taken mainly from political positions. We were somewhat surprised that European courts are still looking for some kind of responsibility for Russia for the events after August 12. The most important thing is to admit that in the period from August 8 to 12, Georgia destroyed the people of South Ossetia, destroyed the city of Tskhinval and villages, and used torture against South Ossetian residents," Dzhioev stressed.
According to the envoy, it should be held responsible for these actions, and in order to avoid responsibility, the Georgian authorities themselves falsely accuse Russia and South Ossetia of violating human rights.
"I think that this court decision - "Georgia started the war"- is very important, and the position of some politicians, and especially the Georgian authorities, who pretend to be winning in this process, is somewhat surprising. In fact, the European court showed that Georgia's accusations against Russia are absolutely far-fetched and groundless, "the diplomat said.
On Thursday, the ECHR published its decision on the Georgian complaint filed against Russia in connection with the 2008 events in South Ossetia. Commenting on the decision, the Ministry of Justice of the Russian Federation indicated that the Strasbourg court found Georgia's accusations against Russia unfounded. At the same time, the Ministry of Justice does not agree with a number of conclusions of the ECHR, including on the issue of blaming the Russian side for the incidents that took place on the territory of South Ossetia and Abkhazia after August 12, 2008, despite the fact that the direct involvement of Russian military personnel was not established.