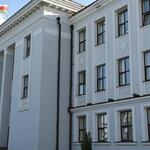 A meeting of the expert council was held at the Ministry of Education of South Ossetia, during which the projects implemented within the framework of grants were heard, the press service of the Ministry told IA "Res".
"Since 2009, the Ministry of Education has been holding scientific competitions jointly with the Russian Humanitarian Scientific Foundation and the Russian Foundation for Basic Research , within the framework of which scientific projects of scientists from South Ossetia and the Russian Federation are financed," the press service said.
They noted that taking into account all the risks at the end of 2020, it was recommended to hold the reporting conference in a different form.
"South Ossetian scientists have recorded video reports on the work done over the past year. Most of the grants were presented in 2019 and are rolling. The Russian colleagues, in turn, worked on the creation of their projects," the press service emphasized.
During the scientific event, reports were made by South Ossetian scientists Kosta Dzugaev ("Territorial identity: factors, mechanisms and tools of formation (comparative analysis of the subjects of the Russian Federation and the Republic of South Ossetia"), Inga Tibilova ("Communicative stylistics of modern Ossetian literary text: the problem of idio-style and lexical structures "), Robert Kulumbegov (" Scientific and technical support of the history of engineering surveys and design of a railway to the Republic of South Ossetia "), Zhanna Kochieva (" Development of the agricultural sector as a factor in improving the standard of living and migration attractiveness of the Republic of South Ossetia "), etc.
Acting Minister of Education and Science Natalie Gassieva has noted during the expert council that 87 scientific projects have been implemented since 2009, of which 57 are jointly with the Russian Humanitarian Science Foundation and the RFBR and 30 republican projects.
"In 2019, the Ministry of Education held an anniversary reporting scientific conference dedicated to international and republican projects. At this scientific event, it was decided to hold reporting scientific conferences annually," the Acting Minister reminded.