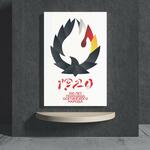 The state media of South Ossetia on the pages of their publications, on television and radio, on Internet resources and social networks, transmitted, published reports, eyewitness stories, archival materials throughout 2020, declared in the Republic as the Year of Remembrance of the genocide of the Ossetian people carried out by Georgia. This was announced by Maya Kharebova, Deputy Chairman of the Committee for Information and Press, at the reporting meeting following the results of the department's activities.
According to her, the Committee has digitized archival documents on the topic of "Genocide" for use in further publications.
"More than 200 materials were published on the pages of the newspapers "South Ossetia "," Khurzarin "and" Respublika ", as well as on the news agency" Res ". State TV and Radio Company "Ir" has prepared a series of documentaries on the topic of genocide. And the Press House has published two books on this subject by South Ossetian historians Konstantin Pukhaev and Givi Gatikoev," Kharebova said.
She added that by June 20, the 100th anniversary of the start of the genocide, special issues of state newspapers had been published. "On this day, the State Television and Radio Broadcasting Company "Ir" showed films about the genocide from the available archives, the news agency "Res" published hourly thematic reports, analytics, and eyewitness stories. And the head of the information department Maria Kotayeva made a report at the international scientific-practical conference: "South Ossetia on the positions of truth in the context of the global information war", which was subsequently published in the scientific journal of the South Ossetian State University," the Deputy Chairman of the Information and Press Committee emphasized.
Maya Kharebova has explained that as part of the Year of Genocide, materials on this topic were published in the North Ossetian media, and the page of the Committee for Information and Press in the social network "Goskominf" in the FB at https://www.facebook.com was also updated daily.