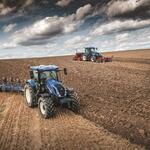 Ministry of Agriculture of South Ossetia is planning to hold a scientific conference on agriculture, said Acting Minister of Agriculture Alan Margiev during a briefing in Tskhinval.
"The main problematic issues will be discussed and the ways of their solution from the scientific point of view will be outlined," Margiev noted.
On Friday, the Republic's information and press committee held a briefing with the participation of the Acting Minister of Agriculture Alan Margiev and the head of the crop production department of the Ministry of Agriculture Igor Muldarov, during which journalists asked questions on the entire spectrum of agricultural issues.