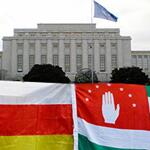 The 48th round of Geneva discussions will be held on July 2-3
The South Ossetian delegation went to Geneva to participate in the next round of the Geneva discussions. The main goal of the dialogue remains the development of bilateral legally binding agreements on the non-use of force by Georgia against South Ossetia and Abkhazia. Work on these documents began in 2008.
In early June, the co-chairs arrived in South Ossetia and discussed the agenda of the upcoming round with members of the South Ossetian delegation.