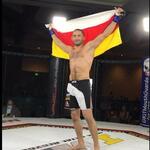 MMA fighter Khetag Pliev won the Extreme Challenge tournament. As Pliev told IA Res, he overpowered the opponent by choke hold in the first round in 1.5 minutes.
"The competition was held in Iowa, USA. I competed in the weight category of 77 kilograms, won in the first round with a choke hold," Pliev said.
Pliev's rival was the American fighter Bruce Miller.