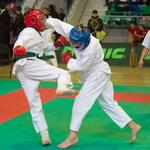 This is the first case in the sports history of South Ossetia when our athletes became winners and prize-winners of a tournament of such scale.
Arthur Loloev and Donna Dudaeva won gold medals at the all-style karate world championship, which is taking place these days in Moscow, said a trainer Mamed Kulumbegov.
Arthur performed in the weight class up to 72 kg. It is noteworthy that our athlete completed all three of the duels conducted during the tournament ahead of schedule, sending the rivals to knock out.