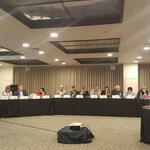 Zalina Tskhovrebova, editor-in-chief of the news agency "South Ossetia Today", is taking part in the international conference of Russian-language media in Israel.
The forum is organized by the Council of the World Association of the Russian Press and is dedicated to the topic - "Russian Media: space, trends, prospects".
Heads of Russian-language editions from 35 countries of Europe, Asia, America, as well as chief editors of a number of the largest Russian mass media, representatives of public organizations are taking part in this conference, in the course of which will be discussed the prospects for Russian-language media abroad and the main trends in the Russian-speaking information space. The program of the forum also provides for a series of round tables in preparation for the 20th World Congress of the Russian Press.