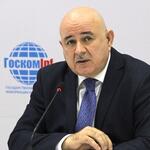 Answers of the Minister of Foreign Affairs of the Republic of South Ossetia Dmitry Medoev to media questions
On April 6, the US state Department published a post on its page with the cynical title "Iran's sanctions relief scam". How would you comment on this?
- By the way, in the same statement, there is Tehran's fair call to ease sanctions, because of the coronavirus pandemic is called a "cunning campaign", and the Iranian people are called "the long-suffering victim of the Iranian regime." What can I say, Washington is in its role ...