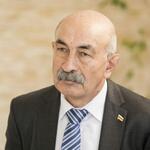 The US military assistance provided to Georgia has a confrontational focus and leads to an increase in Tbilisi's militaristic ambitions, Murat Dzhioev, the Plenipotentiary of the President of South Ossetia, said on Tuesday.
According to him, the law on the US defense budget published by the media refers to the priority of Georgia's military assistance, which is considered a "valuable partner" and the non-recognition of the independence of the Republic of South Ossetia and the Republic of Abkhazia. For the current year, a record $ 132 million has been allocated for Georgia in the US military budget
"The mentioned document does say that (...) the alleged military cooperation between Georgia and NATO contributes to a calmer situation in the region. The opposite is true. The US military assistance to Georgia has a clearly confrontational focus, as it supports and encourages strengthening Georgia's militaristic ambitions, "the Ambassador said.
Dzhioev has reminded that it was no secret to anyone that in the war unleashed against South Ossetia in August 2008, Georgia used not only American political support, but also American weapons and military advisers.
"And after 2008, despite the fact that the independent commission of the European Union recognized that it was Georgia that launched the war against South Ossetia, the military support of the West and the presence of NATO in Georgia are increasing more and more," he stressed.
"Since 2011, NATO military exercises have been held regularly in Georgia. A NATO training center has been established and operates in Georgia, which unites several tactical areas. Not only the number of NATO countries participating in the exercises is expanding, the nature of these exercises, but also the range of the exercises and their aggressive orientation, fraught with aggravation of the situation, "- said the diplomat. As an example, he cited the fact that last summer, during the exercises, NATO military equipment conducted maneuvers near the village of Tsitsagiantkari, located less than one kilometer from the border with the Republic of South Ossetia.
"It is clear that the continued Western support for Georgia's ambitions does not advance the negotiation process in the format of the Geneva International Security Discussions in Transcaucasia, in which Georgia refuses to work on a legally binding document on the non-use of force between Georgia and the Republic of South Ossetia, Georgia and the Republic of Abkhazia "concluded Dzhioev.