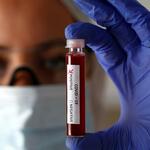 The number of patients infected with coronavirus in South Ossetia according to the data on the morning of May 7 is eleven," said Anna Gagloeva, Deputy Chairman of the South Ossetian Consumer Supervision Committee to IA "Res."
According to her, of the total number of tests conducted on the eve, eight more showed a positive result. "Thus, the total number of patients is already eleven. One of them is a man who came from North Ossetia for treatment, as well as students of Russian universities who were brought from Russian regions to South Ossetia this week," she said.
"About 160 students from Russian universities were brought" to the Republic, all of them are in quarantine in medical institutions of South Ossetia. In addition, there are nine drivers in quarantine at the Alan Hotel," said Gagloeva.
As reported to IA "Res" in the Republican Multidisciplinary Medical Center, all infected with coronavirus have a stable condition.
In North Ossetia, another 94 residents have been confirmed the coronavirus during the day. Thus, as of 08:00 on May 7, in the Republic 1436 cases of the disease were recorded. The data are provided by the Republican department of Consumer Supervision Committee.
Of all the cases confirmed to date in the Republic, 1107 people are on outpatient treatment, 63 are in hospitals, 256 have recovered, 10 have died. In total, 1,596 people remain on self-isolation under medical supervision in the Republic.