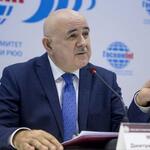 South Ossetia strongly condemns the terrorist attack on the sovereign territory of the Islamic Republic of Iran, said the acting. Minister of Foreign Affairs of the Republic Dmitry Medoev.
"This dastardly murder has once again shown that terrorism does not recognize not only the laws of a civilized society, but also the most basic norms of human morality. In today's difficult international situation, the crime committed undermines peace and stability in the region and poses a serious threat to all neighboring countries and peoples, "Medoev said, commenting on the assassination of Iranian nuclear scientist Mohsen Fakhrizadeh to the state news agency "Res».
According to him, this next terrorist act of unprecedented brutality "once again sends a signal to the entire world community about the need to strengthen international cooperation against any terrorist threats aimed at innocent people."
Last weekend, it was reported that Mohsen Fakhrizade, head of the research and innovation organization under the Ministry of Defense, was killed in an assassination attempt in Iran.
"Armed terrorists attacked the head of the innovation research organization of the Ministry of defense. During the clash between his security service and the terrorists, Mr. Mohsen Fakhrizadeh was seriously injured and was hospitalized," the Iranian defense Ministry said in a statement.