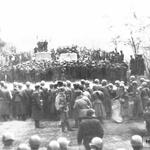 November 23 – is one of the most important holidays in the Republic of South Ossetia - St. George's Day ("Dzhiuaerguba"). In the Ossetian calendar November is called the "Dzhiuaerguba month." But this day has one more meaning for the Ossetian people. On this day 23 years ago started the Georgian aggression against South Ossetia.
Chauvinist hysteria, later recognized by international experts as provincial fascism, developed into overt armed aggression against the Ossetian people.
November 23, 1989, under the pretext of conducting a "peace rally" in Tskhinval a column of many thousands "protesters" (over 30,000 people) by more than 400 buses and cars came to the capital of South Ossetia from Tbilisi and other regions of Georgia, ostensibly for holding the "peaceful rally. " As it turned out, the vast majority of the «protesters» was armed and their purposes were not peaceful at all. This crowd was ledby Zviad Gamsakhurdia – the Georgian fascist ideologist- and by the communist government of the Georgian SSR. Several dozens of young people - inhabitants of Tskhinval, being unarmed, did not hesitate for a second, rose in defense of their homeland and blocked the road to the town. Their fortitude forced the enemy to retreat. Later almost the whole population of the town gathered here. The confrontation lasted more than twenty-four hours. The Georgians failed to seize Tskhinval, and November, 23, 1989 became the date of beginning of the active phase of the Georgian-Ossetian conflict.
Only a resolute intervention of Russia, which had demanded to put an end to the bloodshed, stopped the war. June 24, 1992 in Sochi was signed a peace agreement, and on July 14, the peacekeeping forces entered the territory of South Ossetia.
During the years of aggression the Georgian armed forces killed and wounded thousands of Ossetians, more than a hundred thousand people became refugees, 117 Ossetian villages were burned.
Military aggression of Georgia against South Ossetia in August 2008, accompanied by atrocities and brutal violence by Georgian forces against the civilian population of South Ossetia, has brought a great many victims and suffering to our nation. It again showed the whole world the criminal nature of the political regime of Georgia.
The struggle for independence and confrontation to the Georgian fascism came to a logical conclusion on August 26, 2008 with the recognition of the independence of our republic by the Russian Federation.
November 23 is a day of national pride of Ossetia, as on this day our people believed in their victory and realized their unity in the face of the external threat. November 23 in South Ossetia is declared the Day of Courage and National Unity. Today we would like to appeal to all sensible people to unite.
IA "Res" / Maya Kharebova