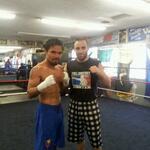 The Ossetian professional boxer, the European champion under the WBC version in the weight class up to 66.6 kg Aslanbek Kozaev had another bout with the famous Filipino professional boxer - the world champion under versions of WBC, WBA, IBF and WBO Manny Pacquiao. This has been said IA "Res" by the coach of the athlete Vitaly Slanov. "It was the six-round sparring, unlike the previous one, which lasted four rounds. The sparring was held while Pacquiao was being trained for his next fight. June 4 Manny Pacquiao will have to fight for the world title with an American boxer, the world champion of the WBO, Timothy Bradley and our athlete is helping him in training", said Slanov.
According to the trainer, the fight took place this morning in Los Angeles.
"Like their previous sparring, that took place the day before, this bout has also been held at a highest rate and was very tense. Kozaev once again showed his best side, implementing all of its outstanding fighting qualities. During the fight, he repeatedly managed to interrupt his rival. American boxing experts, watching the boxing fight, appreciated the skills of the Ossetian fighter,"- underlined Slanov. The coach has said that Pacquiao and his world famous trainer Freddie Roach were also very pleased with the joint training of the Filipino boxer with Kozaev. "Pacquiao and his coach expressed a desire to hold in the future the joint trainings of Kozaev with Manny Pacquiao. This is, of course, is very well, since training with the American champion will bring Kozaev huge benefit - continued Slanov. - Our boxer will significantly expand and diversify his technical and tactical arsenal, and will gain the priceless experience. In addition, we have an opportunity to learn many nuances of the American school of professional boxing and training system. All this, certainly will have a positive effect on the future sports career of our perspective athlete.
"Slanov also added that after the sparring with Manny Pacquiao and positive references of the American experts about the skills of the Ossetian fighter, Kozaev received a number of proposals to hold his next fight in the United States.
"We will discuss these proposals and in the near future we`ll determine the rival of our fighter," - said Slanov.
It should be noted that Kozaev is trained in the Tskhinval branch of the boxing club "Ariana" by the honored coach of South Ossetia and Russia Vitaly Slanov and master of sports Alexander Tedeev. The Ossetian boxer is representing the Russian promotional company "Ural Boxing Promotion."