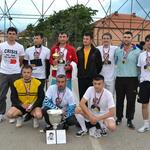 A football match between teams of South Ossetia and Kosovo will take place in Tskhinval. A friendly mini-football match between the Serbian football team from Kosovo and a team of South Ossetia is scheduled to be held in Tskhinval.
This has been reported to IA "Res" by the initiator of the event - a Chairman of the Union of Russian and Serbian peoples, honorary member of the Serbian-Russian friendship, Vitaly Ilyushkin.
"Serbian side will be represented by the team-winner of the mini-football tournament, annually held in Serbia in memory of the 17-year-old Serbian boy Dmitry Popovich, who was killed by the Albanian militants. We intend to hold the match in Tskhinval on August 7 - a day before of the mourning ceremonies in the Republic on the occasion of the fourth anniversary of the Georgian aggression against the people of South Ossetia", - said Ilyushkin.
According to Ilyushkin, the game will take place within the frames of the project, which was developed and is being implemented by him. The project also provides a visit of the Serbian athletes from Kosovo to Russia, South Ossetia and Abkhazia.
"The project mission is -to strengthen friendly relations and to establish fruitful cooperation in the field of sports and tourism between the youth of Russia, Serbia and Abkhazia, as well as promoting the revival of Child and Youth Movement for Peace" - clarified the project proponent.
He noted that the leadership of the Committee on Youth Policy, Sports and Tourism of South Ossetia had already expressed its willingness to do their utmost for the friendly match to be held in Tskhinval and the establishment of a bridge of friendship between the youth of the Republic of South Ossetia, Russia and Serbia.
"The project has also been approved by the employees of the Embassy of South Ossetia in Russia. It was also supported in Abkhazia. A famous film maker Nikita Mikhalkov even expressed his willingness to finance the project. A Russian Emergencies Ministry has promised to provide aircraft to deliver the Serbian athletes to Russia ", - added the Chairman of the Union of Russian and Serbian peoples.
It should be noted that a resident of Sergiev-Pasad Vitaly Ilyushkin – is a graduate of the Icon Painting School at the Moscow Theological Academy.
Within the frames of measures for the establishment of friendly relations between students of South Ossetia and Russia, he visited South Ossetia in 2011, where he conducted a "Lesson of Peace" for pupils of the boarding school, and in Sergiev Pasad he arranged an exhibition of art works by the boarding school pupils from Tskhinval.
In addition, with the blessing of Patriarch of Moscow and All Russia, during the fighting in Chechnya, Vitaly Ilyushkin went there and was helping the children in the conflict zone.